NIPPLES:
FULL CIRCLE
Learning ONLY breast cancer tattoos excludes a huge clientele! Learn 3D nipple tattoos on a flat surface, AND:
Nipple grafts: trans & breast surgeries

Natural nipple color change & adjustment

Adjusting size and/or shape asymmetry

Managing scarring in & around nipples & your tattoos

Includes NIPPLE NUANCE

– our detailed nipple drawing course for free!
BUY NOW!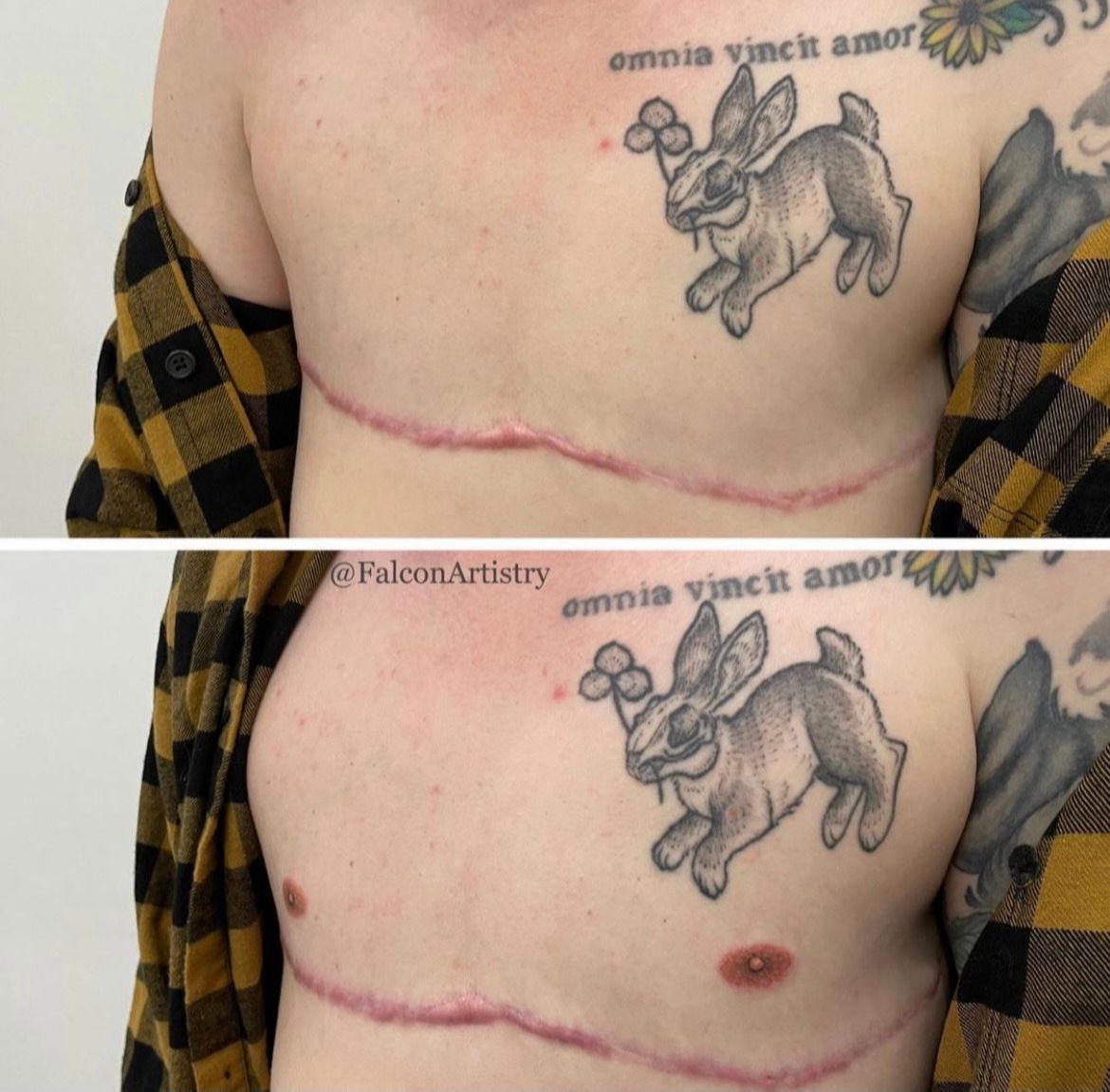 This is more than just learning how to tattoo a 3D appearance nipple!
I want to give artists a holistic approach that sets them and their clients up for success with more than just a concept of how to do this service.
Currently, nipple courses only focus on 3D appearance breast cancer nipple tattoos. This excludes a large clientele that still have some nipple tissue. A lot of artist struggle in these cases as it is very different skin to Tattoo in texture, technique and colour selection.
Busin
ess pra
ctices, Anatomy, Skin conditions, Surgery info, Needles, Inks, Techniques, Procedure protocol, Documentation and mapping demo, and 1 year access to the course!
CANDICE CAMO
Camouflage tattoo is THE niche specialization that sets you apart as an artist! Apply for our advanced course & bring this service to your area to help more people heal & feel great about themselves!
the ONLY hybrid, comprehensive camouflage course

Described by students as "colour theory on another level!"
Online curriculum in advance to practice concepts
Hands-on experience with models so you have actually done it 
If you want to stand out as an artist, increase your revenue and help more people, camo is the next frontier!
MORE DETAILS
BECOME THE "GO TO"
Make more connections with your community and beyond! How do you reach more people so they know about you and your services as a trusted professional?
Learn the secrets to gaining partnerships with surgeons, other businesses, artists and influencers! Spread awareness of you, your brand & how you help your clients!
MORE DETAILS
INTERESTED IN HANDS ON?
Candice strongly feels when you are offering advanced medical tattooing services it is our duty to offer the very best to our clients. 
CHECK OUT HYBRID OPTIONS HERE!
HANDS ON OPPORTUNITIES